Your first 2021 Payment Date
Determining the correct Payment Date for your first Payroll in 2021 is something that you should give serious consideration to in order to avoid any issues later in the year.
Many employers will be returning from their Christmas Holidays on Monday 4th January and will want to process their first 2021 payroll for either Thursday 7th or Friday 8th January.
Revenue operate a strict weekly payroll calendar where Week 1 runs from 1st to 7th January, Week 2 runs from 8th to 15th January and so on. So, in 2021, a payment made on Thursday 7th January is counted as a Week 1 payment, however, a payment on Friday 8th January is a Week 2 payment – no ifs, ands or buts!
Revenue are only concerned with the date that a payment is made to an employee – it does not matter when the employee actually worked to earn that payment. For Example, if you make a payment to an employee on Thursday 7th January for work that was carried out in the last week of December, then this is counted as a 2021 Week 1 payment because that is when the employee is being paid. From a Revenue perspective, employers should forget about when the employee actually worked and instead focus on the date on which they are paid.
Revenue have published a document outlining these particular requirements at
https://www.revenue.ie/en/employing-people/documents/pmod-topics/payment-date-alignment-and-general-issues.pdf
How To Start Your Payroll With a Week 2 Payment Date
When you run your first Payroll in the software you will be shown the "First Pay Period" wizard where you will be able to specify the starting Week Number, the first Payment Date and the Period Ending Date.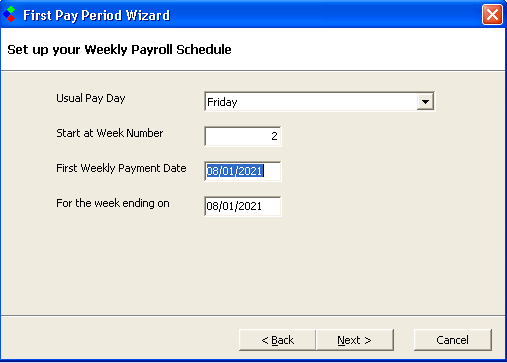 To use the 8th January as your first Payment Date in 2021 you should do the following;
Select the Day of the week that your employees are paid - in this example we a using Friday.
Change the starting Week Number to 2 - you will be warned about skipping Week 1, but you can ignore this.
The Payment Date will be automatically set to 8th January 2021 - the Friday in Week 2.
Change the Period Ending Date to reflect the period up to which this payroll relates. This date will determine how these payrolls are reported in the various management reports within Payroll.
You are now ready to run your first 2021 Payroll.
What about Insurable Weeks?
In terms of PRSI, as the employee will not be paid in Week 1 of 2020 (1 January 2021), one of the following options should be used to correctly record the insurable weeks for PRSI purposes:
The employer can submit a "NIL" pay value payroll submission in Week 1 (1 January 2021) showing 1 insurable week
The employer can report 2 insurable weeks (PRSI) on the payroll submission for the Week 2 pay date (8 January 2021).
We would suggest that you take the second option and allocate 2 Insurable weeks for your wages on 8th January by editing each payroll entry and setting the "Insurable Weeks" to two as shown below;