Knowledge base » 2020 » COVID-19: Important Notice - Employees who are rehired after the 1st May might not be eligible for the Temporary Wage Subsidy Scheme
COVID-19: Important Notice - Employees who are rehired after the 1st May might not be eligible for the Temporary Wage Subsidy Scheme
On Monday 4th May the Temporary Wage Subsidy Scheme (TWSS) will switch over from what is called the "Temporary Phase" to the "Operational Phase".
One of the key differences between the temporary and operational phases is that on the 4th of May Revenue are going to provide each employer with a list of employees (by means of a CSV file) who are eligible to receive a subsidy payment.
This list is going to be generated by Revenue over the weekend and will be based on the employments that are registered with each employer on the evening of Friday 1st May.
If an employee is not on that list then the employer will not receive any subsidy payments for that employee from the 4th May.
If you have ceased employments in CollSoft and notified Revenue of those cessations so that they could receive the Pandemic Unemployment Payment from The Deaprtment of Social Welfare (DEASP) then these employees will not be in your CSV file. However, if you simply laid employees off but did not cease them on CollSoft/Revenue then you have nothing to worry about - these employees will be in your CSV file.
If you have issued such cessations, and you plan to rehire these employees in the near future and avail of the subsidy we would recommend that you re-commence (or rehire) these employees in CollSoft Payroll and notify Revenue of the new employments.
Re-Commencing or rehiring these employees will not effect their Pandemic Unemployment Payment (PUP). PUP payments will only be stopped when you actually pay the employee, not when you register a new employment.
Rehiring an Employee in CollSoft is relatively easy and can be done in two ways;
1) Rehire using the Employee Details Screen.
To do this simply open up the "Employee Details" screen for the ceased employment and press the "Rehire Employee" button as shown in the image below. Make sure and register the new employment with Revenue when you are prompted by the system.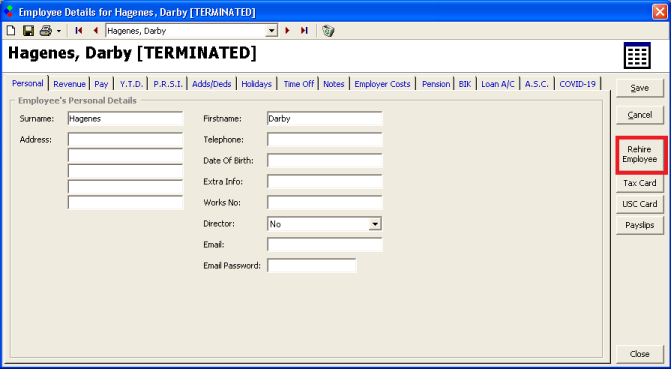 2) Rehire a batch of employees using the Employee Rehire Wizard
This method enables you to rehire and register more than one employee in a single process and can be run by selecting the "Rehire Employees" option in the "Employee" menu as shown below;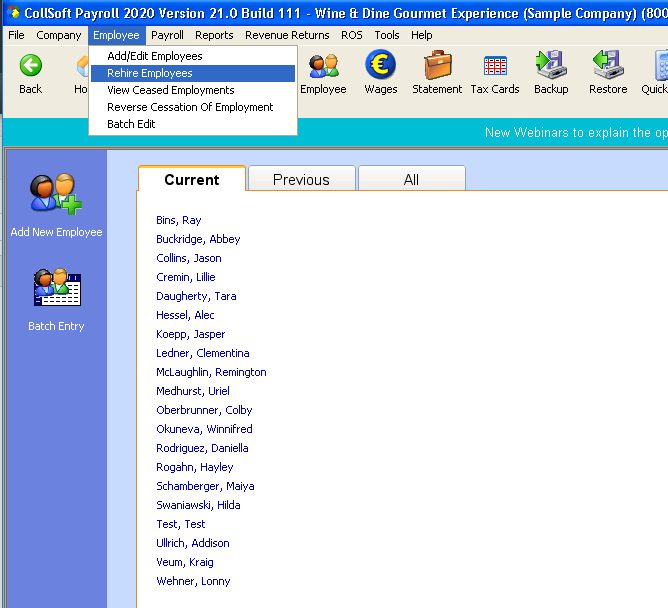 This will start the Rehire Wizard and you will be able to rehire multiple employees and register those employments with Revenue in a single process. The wizard is self explanatory and easy to follow, but please ensure that you chose a commencement of no later than Friday 1st May.
Final Note:
There is one area that could cause potential problems where the employee has multiple employments. In these cases Revenue will apportion the subsidy across the multiple employments and the employee will only receive a reduced subsidy in each employment. If you rehire an employee now and don't subsequently operate the subsidy scheme for them then they will not receive their full subsidy entitlement in the other employments. Therefore this is a difficult decision for you to have to make.
Revenue have told us that they will only be generating this list once (this weekend) and that they will not be updating this on a regular basis. We have advised Revenue that this will not work well in practice. Perhaps over the next week Revenue will reconsider their position and you may feel that we have given you bad advice. However, our view is that it would be wrong of us not to advise you of these matters so that you have the opportunity to make your own decisions.