How do I start processing 2023 payroll?
Every tax year we release brand new software in line with the new budgetary requirements for that tax year.
Please download the new tax year version of CollSoft from our webpage.


Once installed, this will install separately to your previous year's software and you will see a new CollSoft icon with the Tax Year date, appear on your desktop screen.
Your software for the new tax year will contain an import wizard to bring across your company and employee details from the previous tax year. In doing so, your previous year's information will remain untouched and accessible.


Follow these steps to import your data into the newly installed software programme:
Open both the previous tax year software and the newly installed software programme For example, if importing from 2022 into 2022, then open both years. Minimize 2022 and leave 2023 open.
1. Click "file" on the top left of the installed software programme.
2. Then click "Import CollSoft Payroll 20XX Data"
3. A Wizard will open-up. Read through it and then click "Next"
4. Select the option relevant to you-either option1: Import company and employee only or option 2: Import companies, employees and carry forward unused holiday. Once you have made your selection, click the "next" button.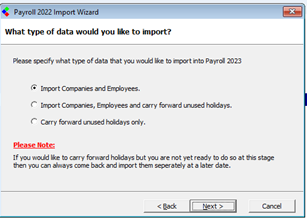 5. If you have the previous year software programme open in the background, click option 1- Import directly from Payroll 20xx
If you don't have the previous years software on your PC, then you can import from a back-up. If this is the case, please select option 2- Import from a back-up you created in Payroll 20xx.
Then click the "next" button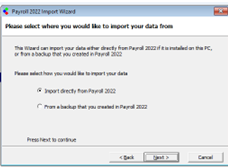 6. You will be presented a screen with your companies you have in the previous tax years software programme. They will all be ticked by default.
If you don't wish to import a certain company, then untick the tick box to the left of the company name.
Once you have made your selections, then click the "next" button.
7. Click the "import" button
8. Payroll will import each company you selected. Once done, click "OK" on the Import Process complete message box.
You have successfully imported your chosen information from one tax years software into the new tax years software.
If your ROS digital certificate has not expired, this will automatically transfer over into 2023 Payroll Software as part of the import process.
Therefore there will not be a requirement to add your digital certificate again until it either expires or changes are made to it.
As per our License Agreement, a new license is required each tax year to continue with the software after 60 days trial use.