Ordering for the New Tax Year


A new installation of CollSoft Payroll is required every tax year.

New tax year licences can be purchased by clicking within the software or by calling our helpdesk. Simply select the license type you require at time of ordering.
To purchase the license key within the software, please follow these steps:
1. When clicking into the company, you will be presented with the free trial screen. On this screen, click the "purchase License Key" button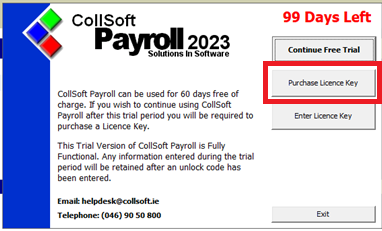 2. Select the Tax Year you wish to purchase and click "continue"
3. Complete your company information and then click "Proceed to Product Selection"
4. Here, on the next screen, you can select the product most relevant to your requirements. Prices are available on this screen. Once you have selected your product, click the "Proceed to Payment Options" button
5. On this screen, you can select either
Credit or Debit card payment OR
Bank Transfer Payment
Select your preferred option and then click the "proceed" button.
If you have selected a card payment option, you will be taken to our card portal to complete the card payment.
If you selected Bank Transfer then an invoice will be generated, which you can print if required.
License keys are issued to customers upon receipt of orders and full payment.
PLEASE NOTE: Credit/debit card payments will mean that your license key will be emailed to you as soon as the payment has been processed. However Bank transfers will take 24-48 hours to process before the License key is emailed to you. Please keep this in mind, especially if you are running out of days on your free trial.


Software downloads for the new tax year will be available on our website from mid-December of each tax year.