Importing your ROS Cert into Payroll 2019
Your ROS Digital Certificate is the vital ingredient needed to use the new PAYE Modernisation system together with Collsoft Payroll.
Before you can start updating Employee RPN's or doing Payroll Submissions to revenue you have to Load your ROS Digital Certificate into the Payroll software.
If you have had to recently change your ROS password then you will need to run this process again in order to update the ROS Cert used by Payroll.
The following article will describe in detail how to import your ROS Digital Cert into the Collsoft Payroll.
We also have a video of the process available to watch at
https://www.vimeo.com/303102566
Step 1 - Exporting your ROS Cert From your Browser

Open your internet browser and browse to the ROS login screen in the usual manner. At the login screen click on the "Manage My Certificates link" as shown below.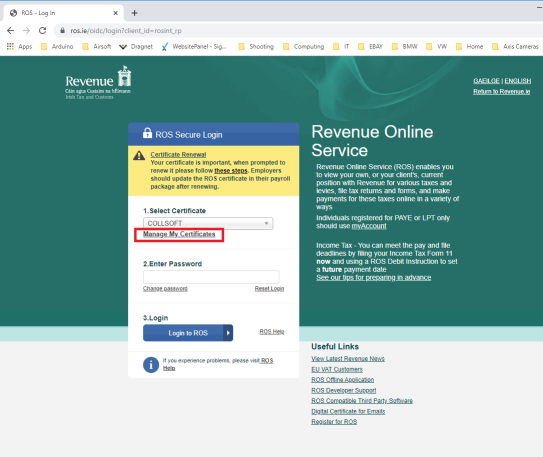 Then, click on the Save Icon beside your ROS certificate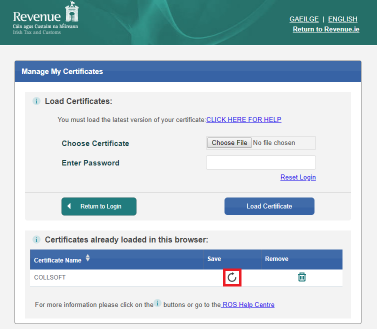 Then press the "Save" button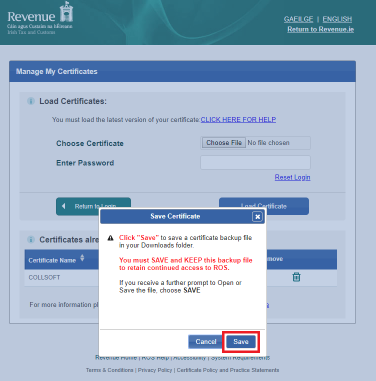 Depending on your Browser this will save your cert either into your "My Downloads" folder, or some other folder that you choose;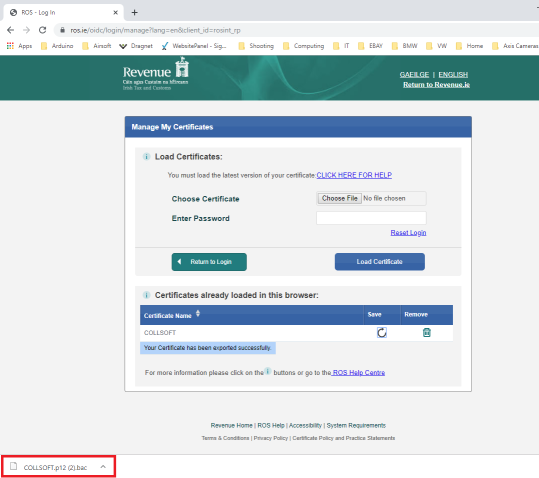 You are now ready to import this ROS cert into CollSoft Payroll.
Step 2 - Import your ROS Cert into CollSoft Payroll
Click on the Certs Button at the top of the toolbar.

You will be presented with the following screen.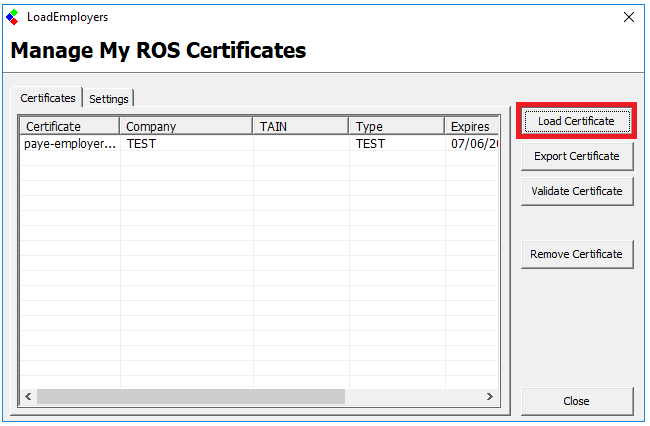 Click Load Certificate as shown and a ROS Digital Cert Import Wizard will appear as shown below.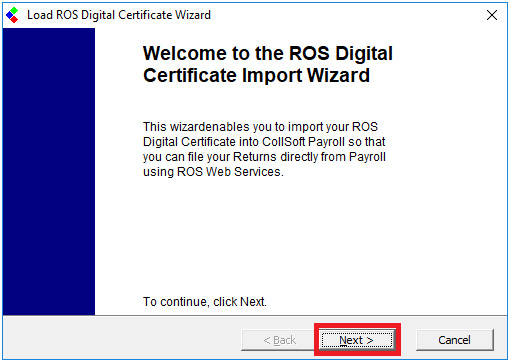 Click Next as shown and the option to browse for your ROS Cert is available, as shown below.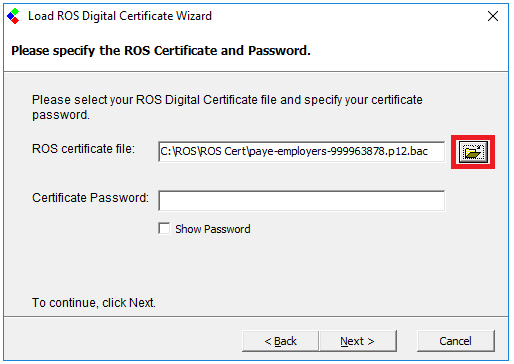 Click on the browse option and locate your ROS Digital Cert on your computer. Your ROS Cert will be a .p12 file and if you have recently downloaded it from the ROS website it may be located in the downloads folder on your computer.
Highlight the Cert and click open. The cert will appear in the ROS Cert File as shown above.
Enter the password you use to Login to ROS. Click Next and the following screen will appear.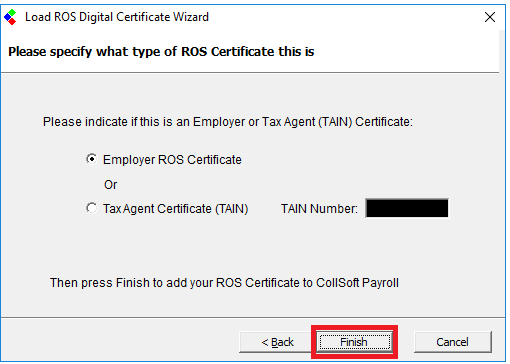 If you are using a Tax Agent Cert (TAIN) select this option and enter your TAIN Number before clicking Finish.
Otherwise, leave the option as Employer ROS Cert and click Finish. The following screen will appear.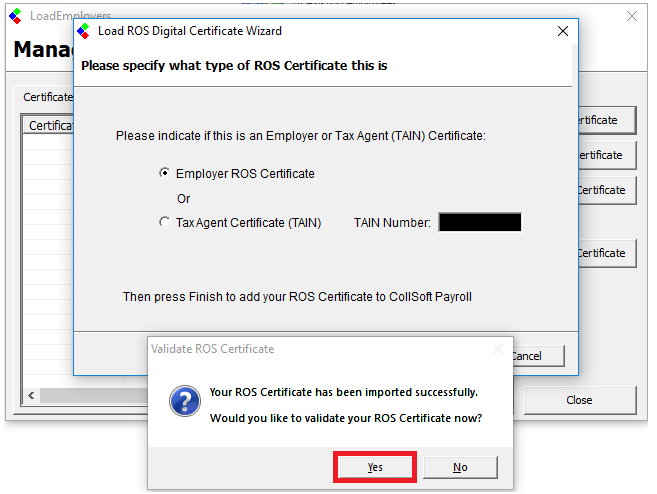 Click Yes on this message and you can then select the companies you want to validate the cert against.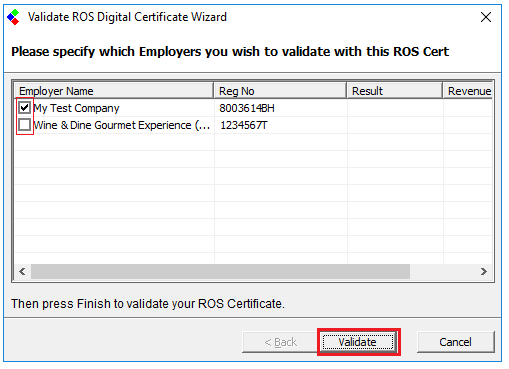 Click on the "Validate" button highlighted above and the following screen will appear.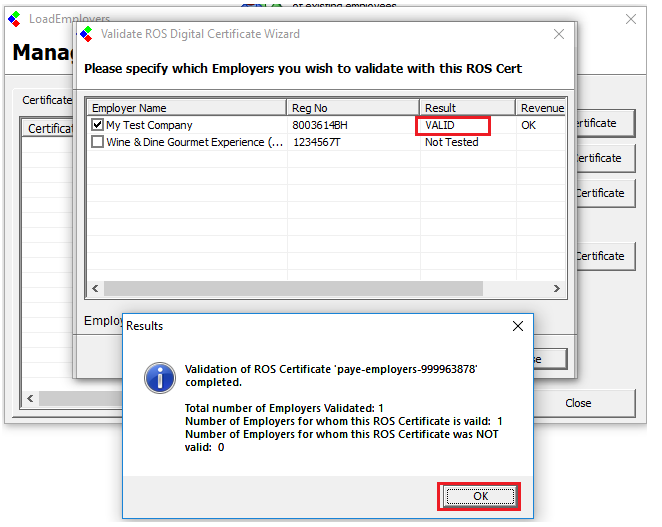 Here you can see the result of the validation. If you have a TAIN Cert you will see the 'Valid' result for each of the companies the Cert is Valid for.
Click Ok, then Click Close and Close again. Your ROS Digital Cert has now been imported into the Collsoft Payroll.