ROS P35 - File P35 Return Only without payment
Please NOTE: From 1 January 2019, the P35 is abolished in line with PAYE Modernisation. This process is, therefore, only applicable to preceding years
.
ROS provides a facility to file a P35 only, without making any payment, despite an outstanding liability. This enables employers to file on time and to make a separate instruction to settle payment.
There are varying circumstances as to why an employer may submit a P35 without payment, such as;
Pending P30 payment

Insufficient funds

Pre-existing Direct Debit arrangement

Temporary lack of access to a credit/debit card

Refund offset from another tax

Pending instruction to Revenue

Incorrect Balance showing as outstanding on P35
FILE RETURN ONLY
If you wish to submit your P35, without making a payment, then you must choose to
File Return Only.
Once you have added the P35, review the preview your submission within ROS. Once satisfied that the return is completed you will proceed to the next stage of submission which is the
Payment Screen
.
ROS will prompt you to setup a payment arrangement for any outstanding liability, or indeed even in the case of nil amounts showing as outstanding.
It is at this stage which you will have the file the return without payment by choosing
File Return Only,
as shown below.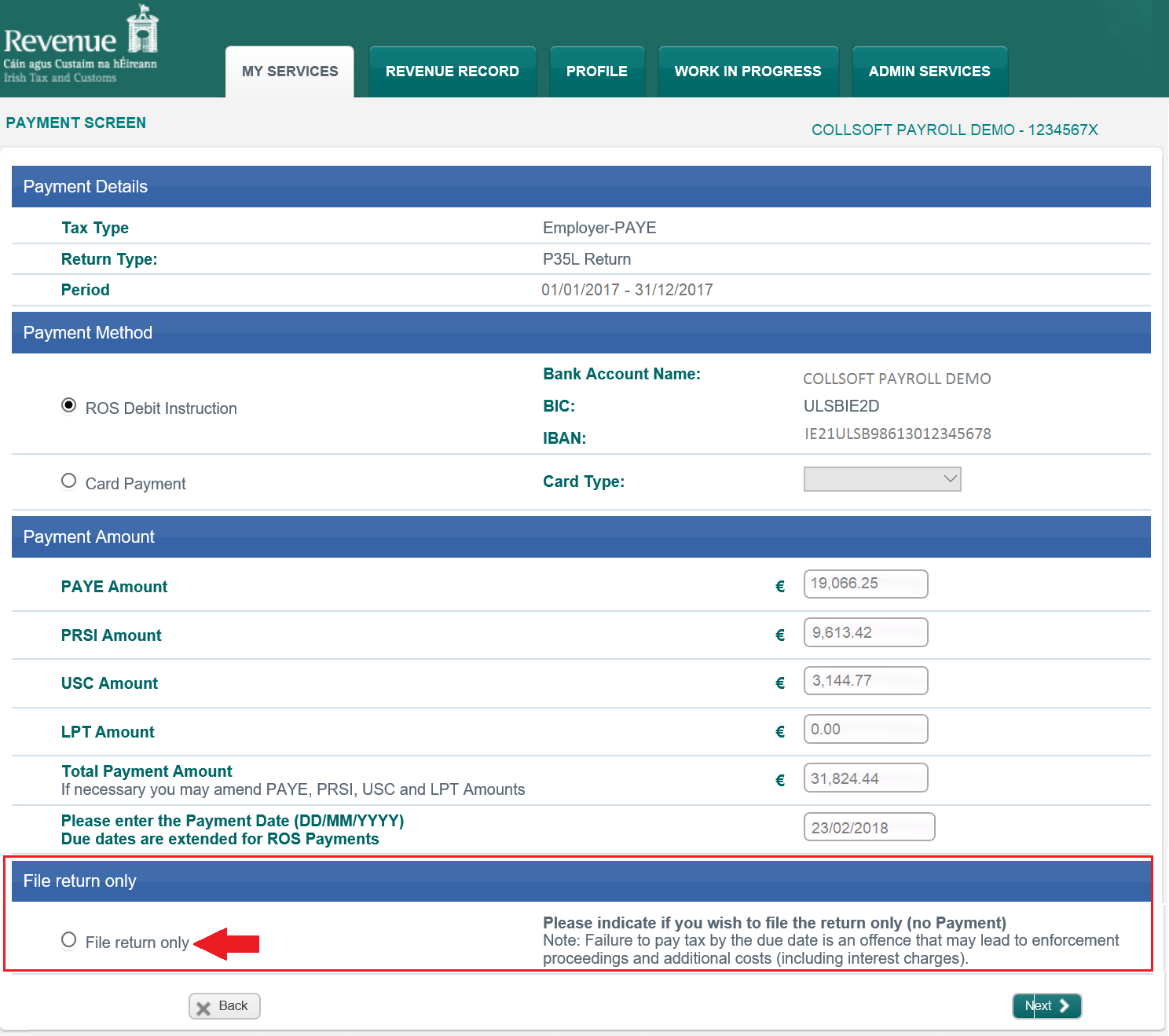 P35 - File Return Only
FINAL P30 PAYMENT COVERS P35 OUTSTANDING LIABILITY


If you submit your P35 prior to the debit of the final Year end monthly/quarterly P30 payment, i.e. 23rd January, then this amount may show as outstanding and due to Revenue when processing the P35 submission via ROS.

If the P30 covers the outstanding liability and you have committed to a ROS debit instruction on the P30 then submit the P35 selecting to
File Return Only
, as shown above. This submits the P35 return only without a payment arrangement.
The pre-existing P30 RDI arrangement will settle the outstanding balance therefore, no other action is required.
If there is a shortfall in the arranged P30 payment, whereby a balance will remain due to Revenue, you must take action to arrange a separate payment of the balance, refer to P35 - Payment Instructions separate to P35 submission.