Networking Your Payroll Data (2019 and previous years)
CollSoft Payroll can be used in a network environment to provide access to a shared Payroll Data file.
Note: You do NOT need to purchase additional copies of CollSoft Payroll in order to use the network feature. You can create a network environment with the two licenses that come with buying the Small Business Edition Payroll license. However, adding a 3rd or subsequent computer to the network would require the purchase of an additional license.
To set up a shared data file for CollSoft Payroll you should follow the below steps;
Go to the PC that has the most up to date CollSoft data present in the payroll software. Open up the Payroll Software.
Select "Options" from the "Tools" menu. The Network Settings will be displayed on the screen.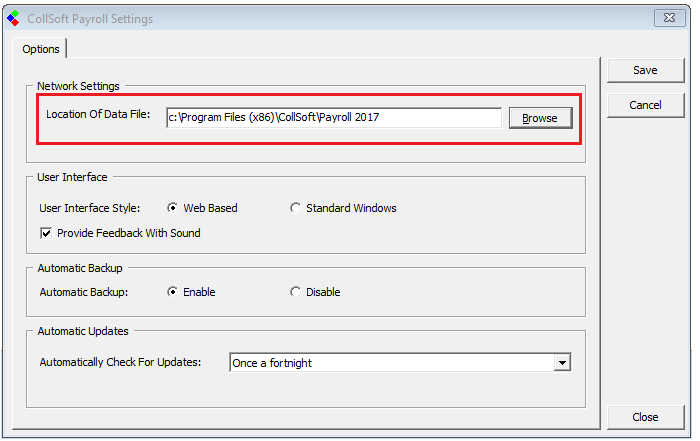 Networking your Payroll Data: Location of Data File

In the field 'Location of Data File' the default directory will be the installation directory of C:/Program Files (x86)/CollSoft/Payroll XXXX.
Click on the Browse button
A network settings utility will then be displayed. Choose the required drive and directory on the server from which you wish to share or operate the payroll data from.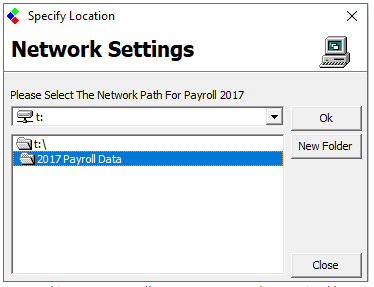 Networking your Payroll Data: Browse to the required location

CollSoft will check the selected directory for the presence of a Data file.
As this is the initial time to network this particular year of payroll CollSoft will confirm that a Data file does not already exist and will copy the Data file from C:/Program Files (x86)/CollSoft/Payroll XXXX to the network directory.
To continue copying the Data file select 'Yes'


Networking your Payroll Data: No Data File Present - Confirm Copying

Click "Yes" to complete the move of the Date file from the previous location to the new network location specified.

SHARING THE DATA FILE WITH ADDITIONAL USERS
Important Note:
If some users have processed Payroll locally then they must Back up their Payroll data BEFORE proceeding to point towards the network shared payroll data file. (How to take a Backup)
Once they are connected to the shared Data file on the Network directory they can then Restore the required individual payrolls from the backup to update the shared Data file to include them. (How to Restore from a Backup)
Additional users can look to the Network drive in order to create one common shared database of all payroll data files. Simply repeat the previous process on each individual users' PC.
The only exception in the process, is once each instance of CollSoft Payroll is pointed to the Network Directory where the payroll Data file already exists, CollSoft Payroll will recognise this and prompt the user to use the existing Data file.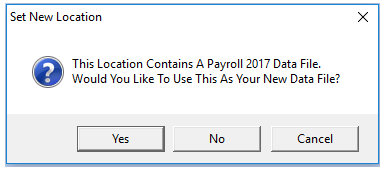 Networking your Payroll Data: Confirm use of pre-existing Data file
Click
Yes
on this message and the payroll will use the data file present in the location specified as your new data file location.